The trees in our community are some of our most valuable assets; therefore, tree care should only be entrusted to skilled professionals. Good's Tree and Lawn Care offers several services to keep your trees happy and healthy.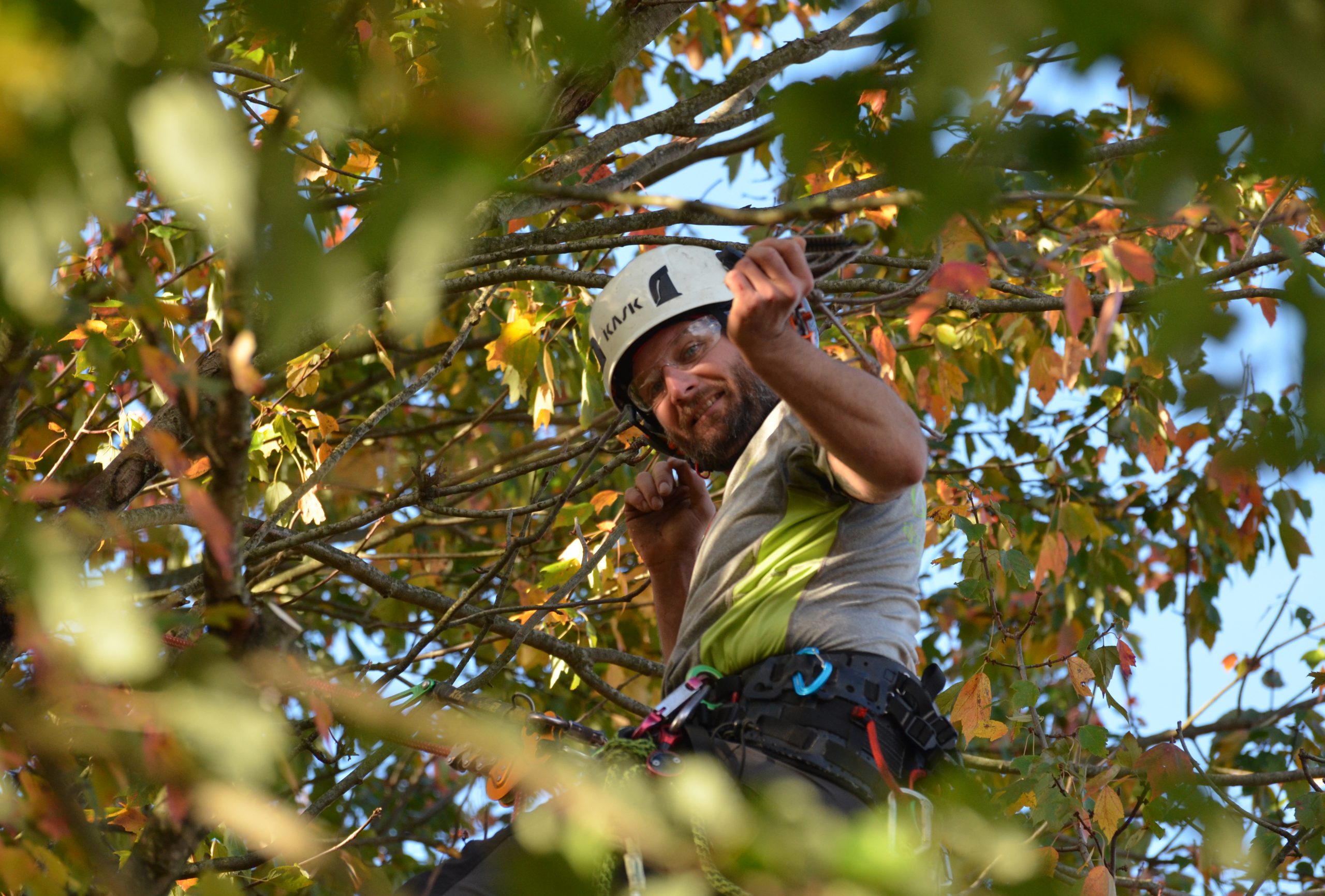 It's no secret that at Good's Tree and Lawn Care, we love trees. We love working with trees. Whether it be planting or some good 'ole TLC, here's how we can help:
Proper Tree Pruning
Tree pruning is the process of selectively removing branches from a tree. There are many reasons why pruning is needed including health, aesthetics, safety, and containment of growing space. Whether to prune or not depends on the species. To prune correctly, experts follow the ANSI A300 standards.
We offer the following types of pruning:
Maintenance pruning
Crown cleaning, reduction, and raising
Deadwood pruning to eliminate storm damage and other hazards
Character pruning
Vista pruning
At Good's Tree and Lawn Care we adhere to the ANSI A300 standards set forth for our industry. Working safely, using OSHA standards, is a top priority for your property and our employees. We are fully insured with workers compensation and liability insurance.
Root Health
Good's Tree and Lawn Care gives attention to the complete tree, not just the parts growing above ground. Our certified arborists and plant health care technicians are trained to diagnose, remediate, and treat detrimental conditions that lie beneath the surface. Trees need proper nutrients, minerals, oxygen, planting depth, mulching and water to grow a healthy foundation in which to grow to potential. We offer the following services to insure proper root health:
Nutrient Management
Proper nutrients provide strong roots, trunks, limbs and branches.
Nutrient Management is the science of understanding the essential elements for growth (soil, weather and hydrology) and the art of applying nutrients designed to boost vitality. As proper assessment of a tree's potential for growth will take into account a comprehensive list of factors and how they interact with one another. An initial soil test gives us detailed information about how to best treat your soil to meet your trees' needs.
Root Collar Inspection and Excavation
Give your tree some flare! Tree root collars are vulnerable to well-meaning but misguided landscaping practices. Good's Tree and Lawn Care offers inspection of root collars which can reveal a great deal about the health of a tree; some simple precautions can provide significant long term protection for the tree.
Tree Growth Regulators
Growth regulator will slow down the terminal growth which will allow the tree to redirect the energy toward root growth. This is a therapeutic treatment for old growth trees and for trees and shrubs that have had root system damage due to site construction.
Proper Mulching
A little goes a long way! We are firm advocates against volcano mulching, a known deterrent to the health of your tree. All landscapes benefit with a two to three inch layer of carefully applied mulch. It is important to keep the mulch away from the trunk flare of the tree. The mulch circle size is ideally to the drip line of the tree canopy.
Watering
We encourage you to care for your trees with adequate watering. Making sure your soil is moist, but not soggy, will bring your trees the hydration needed to take root and grow strong. In a drought situation, remember your established trees need water too.
Insect and Disease Management
Our certified arborists are equipped to help make an informed assessment of your situation, whether you're dealing with a healthy ecosystem or an infestation by a disease or pest. Whatever the course of action requires, our experts will determine a well-planned program for your plants with the goal of maintaining plant health. Our visits can be monthly or seasonal depending on your variety of trees and shrubs.
Integrated Pest Management
Insects and diseases can result in either the decline or death of the plant if left untreated. At Good's Tree Care we take an Integrated Pest Management (IPM) approach to protect trees and shrubs on our clients' properties. IPM is designed to make certain we achieve our goal of suppressing pest problems while minimizing negative environmental impacts. The Good's Tree Care Insect and Disease Management Program employs a suite of cultural practices including inspections and well timed applications with the goal of maintaining plant health while at the same time minimizing environmental impacts.
Beneficial Insects
It's a myth that all bugs pose a threat to your landscape. In fact, there are species that actually aid in the reduction of populations of destructive insects (such as aphids, webworms and lacebugs). We strategically release these insects in areas of your landscape to minimize spraying and to balance the ecosystem. Be sure to ask your certified arborist about this completely natural option.
Cable and Bracing
In the forest it is reasonable to expect that trees will fall apart over time or meet their demise by a lightning strike. Fortunately, in the urban environment, there are solutions that allow the homeowner to hold onto prized trees for longer than might be expected otherwise.
Our tree care team installs cables, guying systems, and brace rods which help support weakened limbs, trees and/or branch unions. We can also install lightening protection to channel the flow of electricity down and away from the tree in the event of a direct strike. This practice will minimize damage to the tree that has been struck.
Tree Removal and Stump Grinding
When tree removals are necessary, Good's Tree and Lawn Care is committed to doing the job safely.
A tree that has become a hazard needs to be removed.
A tree that is in the path of construction needs to be removed.
Sometimes a declining tree which cannot be saved needs to be removed.
Sometimes a dead tree needs to be removed.
Tree removal can be a hazardous undertaking to life and property. The Occupational Safety and Health Administration, a division of the U.S. Department of Health responsible for worker safety, ranks the felling of trees as a leading cause of worker injury and fatality. For this reason, it is crucial that when the time comes and you need a tree, or trees removed from your property, you rely on a professional tree service with a proven track record in safe work practices.
We can also take care of your stump grinding too. Grinding the stump can allow for replanting of a new tree or prepare the area for grass planting. This process chips away the existing stump to a depth of up to twenty two inches. This service is provided with minimal impact to your lawn and landscape.
Our crews are well trained and well equipped to safely remove trees of all sizes and conditions and are trained in electrical hazards when coming in close contact with electrical lines. We are fully insured with general liability and worker's compensation coverage. We are glad to provide a copy of our insurance and coverage to give you added assurance.
Tree Planting
Good's Tree Care provides services for large and small tree planting projects alike. We can also provide site analysis and can make recommendations for suitable species selection based on site conditions.
Here's how we can help in a tree's first stage of life:
We Select Quality Trees
We purchase our trees from local growers who properly care for the tree in its first 3 years of life. We suggest planting between a 2″ to 3″ ornamental tree and larger caliper for shade trees.
We Prep the Soil to Receive the Tree
We will test the soil when needed prior to planting your tree to determine if any nutrients should be added to help the tree in its first year at its new home.
We Use Proper Planting Procedures
At Good's Tree Care we adhere to the A300 standards set forth by the American National Standards Institute (ANSI).
We Apply Bio-Root Stimulant
Applying a root stimulant your tree gives an added bonus to your trees health when establishing from being newly planted. This helps your new tree to establish a healthy root system.
We're Here for the Long Haul
We would love to care for your tree for many years after planting. Periodically inspecting your tree will insure a long life for your tree.
Tree Care and Service Inquiry
We are very pleased with today's tree trimming work. The guys thinned, reduced and shaped all trees as agreed upon. Also, nice to know the support cable, in the White Birch, is in good shape. Kathy and I are not just glad to get this job completed but also to have it well done.
Just wanted to let you both know that your crew were here today and did a fantastic job. The sites and the cleanup pristine. Thank you!
Guys came yesterday and trimmed the tree – Wow! What a great job! They also cleaned up so nice, couldn't tell they were here. Thanks again for nice service.

Questions?
Are you in need of a professional tree, plant or lawn service? Contact us today. We happily serve Dauphin, Lebanon, Lancaster, York, Adams, Cumberland, and Perry County. We look forward to serving you!