Protect your landscape investment with our Plant Health Care Programs. Good's Tree and Lawn Care offers several plant health care services to keep your trees and shrubs healthy. Do you have a home orchard? These services will help in fruit production too!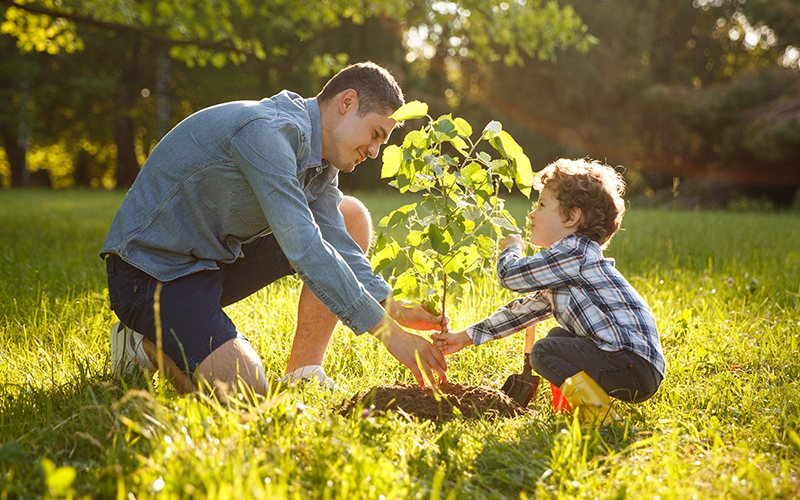 There is no substitute for rich native soil. Regular additions of organic material such as leaf mold, bark mulch, and wood chips can improve soil health over time, but this process isn't always feasible or realistic in some landscapes. Here's how we can help:
Insect and Disease Inspections and Management Programs
The first step in knowing your plants are healthy is knowing what you're looking at. Our certified arborists are equipped to help make an informed assessment of your situation, whether you're dealing with a healthy ecosystem or an infestation by a disease or pest. Whatever the course of action requires, our experts will determine a well-planned program for your plants with the goal of maintaining plant health. Our visits can be monthly or seasonal depending on your variety of trees and shrubs.
Integrated Pest Management
Insects and diseases can result in either the decline or death of the plant if left untreated. At Good's Tree Care we take an Integrated Pest Management (IPM) approach to protect trees and shrubs on our clients' properties. IPM is designed to make certain we achieve our goal of suppressing pest problems while minimizing negative environmental impacts. The Good's Tree Care Insect and Disease Management Program employs a suite of cultural practices including inspections and well timed applications with the goal of maintaining plant health while at the same time minimizing environmental impacts.
Beneficial Insects
It's a myth that all bugs pose a threat to your landscape. In fact, there are species that actually aid in the reduction of populations of destructive insects (such as aphids, webworms and lacebugs). We strategically release these insects in areas of your landscape to minimize spraying and to balance the ecosystem. Be sure to ask your certified arborist about this completely natural option.
Targeted Pest Treatments
Protecting your landscape is what we specialize in, naturally. No two properties are alike, and neither are the solutions for individual challenges. Our experts make an informed decision on how to address your pest situation. Our method minimizes the overuse of pesticides by target applications only where needed. We use effective products and beneficial insect release to ensure a solution worthy of your healthy, natural landscape.
Good's Tree and Lawn Care will help you with treating all your insect and disease infestations including:
Emerald Ash Borer
Woolly Aldegid
Bag Worms
Japanese Beetles
Tent Caterpillars
Fall Web Worm
Azalea Lacebug
Anthracnose on Dogwoods or Sycamores
Apple scab on crabapples
Apple Cedar Rust on hawthorns and junipers
And More!
We also provide an outdoor foundation application around your structures to provide a barrier so insects stay outside!
Nutrient Management
We're in the business of helping you love your landscape. One way we can help is by making sure your trees and shrubs are growing to their full potential. Nutrient Management is the science of understanding the essential elements for growth (soil, weather and hydrology) and the art of applying nutrients designed to boost vitality. As proper assessment of a plant's potential for growth will take into account a comprehensive list of factors and how they interact with one another.
Roots of trees and shrubs need oxygen too. Often times, due to construction around your plants, soil becomes compacted. This condition can result in tree mortality over three to six years. A few years after the contractor leaves, the result of careless site practices will show as your tree is declining. When soil compaction is evident, soil aeration is recommended. Our arborists and plant health care technicians are trained to provide a procedure known as radial trenching. This process will restore the oxygen needed for your tree to live.
Our first step taking care of your plants is to make certain that we have a scientific basis for knowing the composition of your soil. An initial soil test gives us detailed information about how to best treat your soil to meet your plants' needs. At Good's Tree and Lawn Care, our certified professionals are equipped to do this safely and effectively.
Proper Pruning
There's such a thing as too much of a good thing. Pruning is the process of selectively removing branches from a tree or shrub. There are many reasons why pruning is needed including health, aesthetics, safety, and containment of growing space. Whether to prune or not depends on the species. To prune correctly, experts follow the ANSI A300 standards.
We offer the following types of pruning for trees and shrubs:
Maintenance pruning
Crown cleaning, reduction, and raising
Deadwood pruning to eliminate storm damage and other hazards
Character pruning
Vista pruning
At Good's Tree and Lawn Care we adhere to the ANSI A300 standards set forth for our industry. Working safely, using OSHA standards, is a top priority for your property and our employees. We are fully insured with workers compensation and liability insurance.
Plant Health Care Inquiry
We are very pleased with the recent trimming and pruning your men did for us. Tony had a very difficult challenge since the hemlocks had not been done in awhile. He accepted the challenge and with his utmost patience, persistence, concern and skill he did a magnificent job. We commend him and send a very special "thank you."
I appreciated the professional services shown to me by your entire organization.
We were very pleased with the job done. Your crew was courteous, efficient and pleasant.

Questions?
Are you in need of a professional tree, plant or lawn service? Contact us today. We happily serve Dauphin, Lebanon, Lancaster, York, Adams, Cumberland, and Perry County. We look forward to serving you!